CFOs and revenue cycle executives, and practice managers struggle to merge data from multiple sources in order to understand the performance of individual aspects of the revenue cycle.
High deductibles and co-pays mean patient payments play a more significant role in the payer mix. Yet, understanding the effects of patient patients on the revenue cycle can be challenging due to a lack of analytics and insight.
Healthcare Revenue Streams
Healthcare providers have a number of different revenue streams. These include Medicaid, Medicare, private insurance companies, and out-of-pocket payments from patients (including deductibles). When looking at revenue cycle data, many practices have existing EHR or PM systems that limit their ability to diagnose specific issues with their revenue cycle.  There are any number of reasons why a healthcare provider might want to examine their revenue streams individually. One key reason to focus on patient payments is that since 2015, out-of-pocket costs for American healthcare consumers increased by 30%. This year, patients are expected to pay almost $400 billion dollars for healthcare services because of the prevalence of high deductible plans. Patient payments are no longer an easily dismissible portion of practice revenues: in fact it is now the third largest single payor after Medicare and Medicaid. Only looking at revenue data in aggregate masks problems related to patient out-of-pocket payments. Your practice likely has a bigger patient billing financial exposure than you realize, but therein lies an opportunity: Raxia's platform boosts revenue by helping practices capture money they're already owed.
Identifying Problem Areas
During early conversations with Raxia customers, many practitioners often feel patients pay their bills within thirty days. When focusing solely on post-service payments by patients, the numbers show that more than half of all open accounts are in the 180+ days category.
Why High AR Days Are Problematic
Accounts receivable (AR) days are a measurement of the length of time unpaid claims languish in your accounts receivable. High AR days prove to be problematic for two major reasons: it costs money to carry those unpaid accounts month after month and with each passing day a claim sits unpaid in AR, the likelihood it never gets paid increases. First consider the most obvious cost of carrying unpaid AR: mailing paper statements. The cost of sending a paper bill, when all associated costs are added in, can rise to $5 per mailing. If each unpaid account receives one paper bill every 30 days and the average account goes unpaid for 180 days, that individual would have received seven (!) paper bills costing the practice $35. And, as we'll see next, the vast majority of those 180-day-old bills will never be paid. Second, research shows that the percentage chance of defaulting on a payment increases as those bills continue to rot in AR limbo:
AR Aging Performance (Figure 1)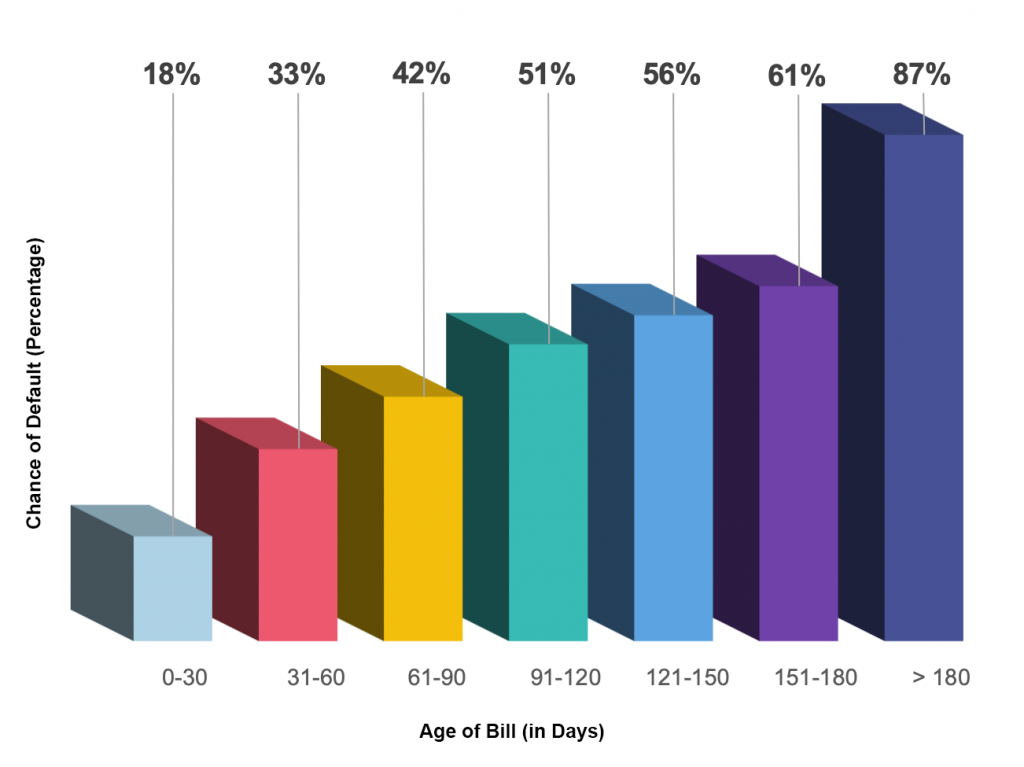 What does one make of the large number of
unpaid bills in the 180-day bucket?
There's an

87% chance

that those accounts default on their payment!
Even if the practice is able to collect after 180 days, it has invested much more money in getting those funds, effectively reducing their net collections.
How Raxia Helps
Discover reveals key patient payment patterns in order to drive changes that produce reliable results. Once problem areas are identified, our platform meaningfully engages with your patients using behavioral targeting to motivate them to fulfill their financial obligations to your practice promptly. Your patients will interact with a modern digital billing system that offers them clarity and convenience. When your patients pay quickly because they're delighted by your payment system, everyone wins.